Ceramic Tumbling Media Abrasive Media Mixed 6 Lbs. 3 & 6 mm SPH & 4 mm Triangle 744633338122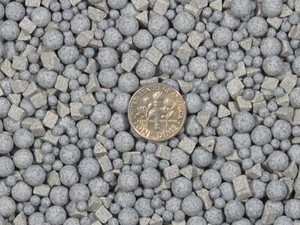 ---
Ceramic Tumbling Media Grey Abrasive Mixed 6 Lbs. 3 mm & 6 mm Sphere & 4 mm Triangle
"Note: Dime in picture not included, for scale purposes only."
·         This is a Ceramic porcelain media that has no abrasive in it.
·         It can be used as a second step or used alone when only a polish is required.
·         Can be used in all types of equipment.
Product Details:
·         This is a porcelain media that has no abrasive in it. It is used to polish all materials.
·         Used for polishing and finishing Brass, Silver, Copper, Aluminum, Stainless Steel, and other non-ferrous metals, including rocks, gems, gem stones, jewelry, and many other applications you may want to experiment with.
·         Hobbyists and Professionals alike use these in vibratory and rotary tumblers for a variety of applications.
·         Can be used in all types of equipment.
SHIPPING:
• All Shipping Rates are based on single purchase items, and shipping will be determined by delivery address and zip code.
• I will combine shipping to whatever fits in the box, additional shipping charges me be required to upgrade to a larger box, on multiple items that do not fit into the first box.
• For items like glass, ceramic mugs or glasses, I pack these items in bubble wrap and Styrofoam for extra protection.
• Your package is automatically protected from loss only up to $50 of your item's value.
• Shipments containing glass or ceramic items are subject to coverage for loss but not for damage.
• If you wish to upgrade to a different service, please email me and I will inform you of what the additional cost is.
• Orders are not shipped on Weekends or Holidays.
INTERNATIONAL SHIPPING:
• International shipping rates are available by quote only. Please email me your location and I can get a shipping quote for you.
• You need to be aware that your own country's customs service may impose a range of import fees, taxes, tariffs, duties at the time of delivery.
• Any and all customs or duty fees are the responsibility of the buyer. These are not in my control and I have no way of knowing when or if they will be imposed or how much they might be.
RETURN POLICY:
Due to the nature of the items I offer I cannot accept returns on personalized or customized orders for items that are not damaged.
When you return the item, there should be at least one inch of cushing material between the item and the walls of the box. Upon receipt of the defective item, and subject to availability, defective items will be replaced within 30 days from the received date. I will send out a replacement to you at no charge using either Canada Post Regular Mail or UPS Standard. If item(s) are no longer available, we will refund your money. Shipping charges are not refundable.
PAYMENT POLICY:
I currently only accept PayPal. You are responsible for paying the entire amount due on your purchase, including any applicable taxes, shipping and other charges assessed by the merchant. If there is a problem with payment we are flexible and will be happy to work with you, just let us know.