TBLeague PHMB2018-T01A/B 1/12 Super-Flexible Female Seamless Body Action Figure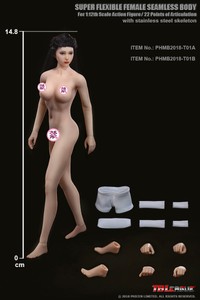 ---
Description100%New Brand: TBLeague Size:1/12 Material:PVC  Pre-order  PS: This is Pre-order Stage,Ship Out within 30 days from PurchaseIt means the item is currently out of stock but will be available at a later date. When your order is processed we will provide an approximate ship date and once this is confirmed by you   Does not ship to Gibraltar,Peru,Bolivia,Ecuador,Czech Republic,Slovenia,The United Arab Emirates,Romanian,Serbia,Colombia,Chile,EI Salvador, South Africa, etc and other remote areas. 

World Buy Store

TBLeague PHMB2018-T01A/B 1/12 Super-Flexible Female Seamless Body Action Figure

Description

100%New

 

Brand: TBLeague

 

Size:1/12

 

Material:PVC

 

 

Pre-order

 

 

PS: This is Pre-order Stage,Ship Out within 30 days from Purchase

It means the item is currently out of stock but will be available at a later date. When your order is processed we will provide an approximate ship date and once this is confirmed by you

 

 

 

Does not ship to Gibraltar,Peru,Bolivia,Ecuador,Czech Republic,Slovenia,The United Arab Emirates,Romanian,Serbia,Colombia,

Chile,EI Salvador, South Africa, etc and other remote areas.

 

Hong Kong Post / EC-Ship Shipping Time Line
| | | |
| --- | --- | --- |
| Zone |  Delivery Time | Shipping Cost |
| US (East /West) Canada,Australia | 15 to 20 Days | FREE |
| UK , Spain, France, Italy | 20 to 30 Days | FREE |
Item Specifics
Brand :
TBLeague
Type :
Figure
Size :
1/12
Attention :
Not Include Any Figures
Package :
Unopened
Material :
PVC
status :
pre-order
UPC :
Does not apply
Payment Payment   We accept paypal officially. Item will be Shipped within official handling days after payment cleared. Item will be Shipped to Buyers' Paypal address!!

 

Shipping   Shipping    Shipped to Worldwide by Registered Or Airmal Shipping,Officially it will take 10-15 working days !Returns Contact us   As you Encounter Any Problem or Unsatisfaction, Please contact us immediately. We will reply within Office Hours (9:30 AM to 6:30 PM Hong Kong Time)Customer Services

Return Policy

In order to provide Best service, we offer 30 days (from buyer received) exchange and return policy. If you're not 100% satisfy with our products, you can return them within 30 days for exchange or full refund.

If you return for 100% full refund, Buyers May bear the return shipping cost

 

 

World Buy Store
Shop Category Store Home  OtherHot Item

DragonBall Z Super Saiyan Broly 10" PVC Statue Metallic Version New
USD 48.99

Cattoys 1/1 RC Control Open / Close LED Helmet For IronMan MARK XLII 42 Cosplay
USD 239.99

Diecast V Class Optimus Prime Battle Damaged Figure New
USD 29.99

TB012-040 Figure Toys-Box Stand For 1/6 Scale Gangsters Kingdom Chappie
USD 30.99

Action Toys MINI DEFORMED Voltes V New Robot 13cm Action Figure
USD 64.99

PictureNew List Item

Iron Studios 1/10 Bane &Ghost Rider& Iron Man Mark Resin Statue WB New
USD 381.99

VSTOYS 18XG28 1/6 Parkour Girl Vicky Secret Run of The Girl Collectible Figure W
USD 126.99

DNA Design Transformable DS-02 Arashi Banzai-Tro RobotIn Stock
USD 81.99

AZOOTOYS 1/1 Beetle&Tree Frog Collectible Scene Statue New Toy sculpture WB
USD 194.99

Unique Toys Transformable Headmaster Weirdwolf &Chromedome Set of 2 Robot New WB
USD 54.99

Help & InfoPayment PolicyShipping PolicyReturn PolicyFAQAbout Us
TBLeague PHMB2018-T01A/B 1/12 Super-Flexible Female Seamless Body Action Figure

Description

100%New

 

Brand: TBLeague

 

Size:1/12

 

Material:PVC

 

 

Pre-order

 

 

PS: This is Pre-order Stage,Ship Out within 30 days from Purchase

It means the item is currently out of stock but will be available at a later date. When your order is processed we will provide an approximate ship date and once this is confirmed by you

 

 

 

Does not ship to Gibraltar,Peru,Bolivia,Ecuador,Czech Republic,Slovenia,The United Arab Emirates,Romanian,Serbia,Colombia,

Chile,EI Salvador, South Africa, etc and other remote areas.

 

Hong Kong Post / EC-Ship Shipping Time Line

| | | |
| --- | --- | --- |
| Zone |  Delivery Time | Shipping Cost |
| US (East /West) Canada,Australia | 15 to 20 Days | FREE |
| UK , Spain, France, Italy | 20 to 30 Days | FREE |

Item Specifics
Brand :
TBLeague
Type :
Figure
Size :
1/12
Attention :
Not Include Any Figures
Package :
Unopened
Material :
PVC
status :
pre-order
UPC :
Does not apply

Payment Payment   We accept paypal officially. Item will be Shipped within official handling days after payment cleared. Item will be Shipped to Buyers' Paypal address!!

 

Shipping   Shipping    Shipped to Worldwide by Registered Or Airmal Shipping,Officially it will take 10-15 working days ! Returns Contact us   As you Encounter Any Problem or Unsatisfaction, Please contact us immediately. We will reply within Office Hours (9:30 AM to 6:30 PM Hong Kong Time) Customer Services

Return Policy

In order to provide Best service, we offer 30 days (from buyer received) exchange and return policy. If you're not 100% satisfy with our products, you can return them within 30 days for exchange or full refund.

If you return for 100% full refund, Buyers May bear the return shipping cost

 

 

Copyright of Worldbuyshop. All rights reserved.
Powered by SoldEazy